One of the first questions for any homeowner who is thinking about having a solar photovoltaic (PV) system installed is whether their roof is suitable for such an installation.
Fortunately, most UK homes have roofs with a pitch between 30-50° which is suitable for solar panels. This is great news for any UK homeowner looking to generate their own electricity!
Even a roof that doesn't match the ideal requirements can still be suitable for solar panels. Part of the personal recommendation provided by Solar Together will be a breakdown of any additional costs needed to cover a variety of roofs.
Often, roof characteristics will instead affect the output which solar panels generate. Either way, as a prospective owner, it will be useful to know seven key factors which play a crucial role in solar panel eligibility:
Factor 1: Roof orientation
A south-facing roof is ideal for a roof to face/ideal orientation for a solar panel system because it tends to generate the most electricity from the solar panels.
Since they receive the sun at its most powerful for the longest time, south-facing roof panels generate the most energy.
However, this does not rule out the possibility of installing solar panels on rooftops with an east or west orientation. If your roof is oriented differently, you will most certainly still notice significant benefits from adding a solar array.
East and west-facing rooftops are also acceptable for solar panel installation and will still generate a significant amount of electricity throughout the day.
The morning sun will be reflected off an east-facing roof, whereas the afternoon and evening sun will reflect off a west-facing roof.
As north-facing roof orientations are not ideal for solar energy capture, Solar Together does not provide recommendations for north-facing systems. This will be notified during registration.
Factor 2: Roof shading/shade
Solar PV systems can still generate power if there are objects causing shade; however, the amount of electricity generated will be greatly diminished.
If your roof has lots of shadows cast upon it for extended periods of time, then it is advisable to look at other solar options available. Things that can lead to shade on your roof are trees, power lines and other properties.
Depending on the location and scale of the potential shading, it may be advisable to have an optimised system that can mitigate the effects of shading on your roof.
Our certified system installers will be able to assess your layout, evaluating shade levels and what option would be the most efficient for you.
Factor 3: Roof pitch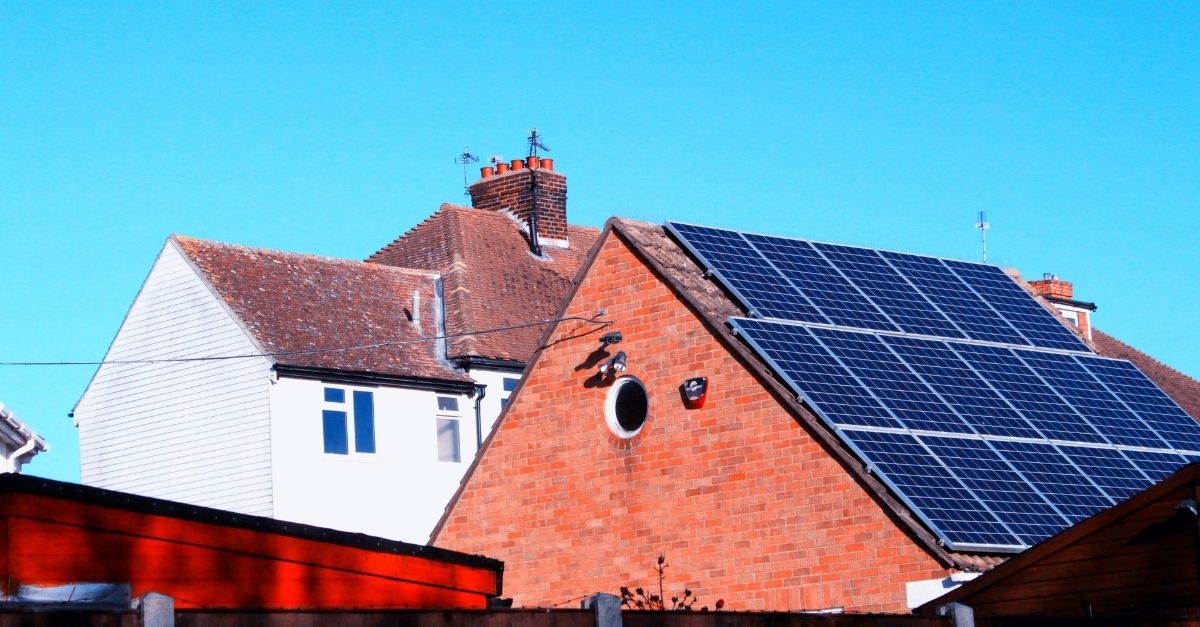 It doesn't matter whether you live in a house, bungalow, farm, or villa…both sloping and flat roofs are viable options for solar panel installation, and you will be offered multiple roof pitch options during the registration phase for Solar Together.
However, what needs to be considered is how the slope of your roof (or lack thereof) will affect any solar panel yield.
The ideal roof pitch angle is between 30-40°, but even if the angle of your roof falls outside of this range, it is still possible for a PV system to generate clean electricity effectively.
Every supplier vetted by Solar Together will try to find the optimal angle of inclination to maximise your return.
A PV system mounted on a flat roof will be done at an ideal angle of inclination of 15° and, due to the additional logistics involved, may require planning permission. With a sloping roof, the slope may even reach up to 60 ° and still be effective.
As well as your main residence roof, you could also consider a garage, extension or shed installation – so long as you have a fuse box available and the roof of the building is structurally sound.
Factor 4: Roof material
Roof material can have a significant impact on the cost of installation and the bearing capacity it holds.
In general, there should be no need to fret, as solar PV can be installed on almost any roof type. Most roof materials are suitable for a solar PV system. However, three types of roofing are excluded for the placement of a solar PV system:
Thatch roofs: As this increases fire risk.
Roofs containing asbestos: Because of the associated safety hazards. If you want to purchase a solar PV system, we advise you to have the asbestos removed by a specialist first.
Glass roofs: As this isn't strong enough to carry a complete solar PV system.
To give you a more accurate breakdown, we will cover some of the main material types used:
Asphalt: Otherwise known as composite roof, is undoubtedly the best material for solar PV installation as it is very durable and sturdy. Due to these features, it has been gaining popularity in homes throughout the UK.
Metal: This is also an excellent alternative roof material and allows solar installation to be carried out with ease – potentially reducing the money you spend on installation.
Tar: This material is prevalent in flat roofs. While it is feasible for flat solar panels to create electricity for your home, your installer may recommend a bracket that tilts the panels at an ideal angle of 30-40 degrees to generate more electricity.
Gravel: Like tar roofs.
Wood: This is a solid choice for installations but may require an additional check to analyse fire safety protocols.
Factor 5: Roof condition
On top of this, all certified installers will evaluate the condition of a homeowner's roof. If the roof material is acceptable, but the condition has deteriorated, and there is damage or holes present, then it will likely be necessary to tackle these issues before addressing solar installation.
Through the Solar Together initiative, you will receive an onsite survey. If the accredited installer cannot proceed because the roof isn't structurally sound, you will be able to receive a full refund on your deposit.
If you need to replace your roof, you should postpone adding solar panels until the job is completed.
Because solar panels have a lifespan of several decades, you want to be certain that your roof is in the greatest possible condition before installing your system to maximise its lifespan.
Additionally, solar panels are hefty, so you'll want to ensure that your roof can support the additional load.
Factor 6: Roof size
The size of the solar array you intend to construct determines whether your roof is large enough for solar panels. The minimum panel installation carried out through our group-buying scheme is 4 panels, which at the average size of 1.6 square metres, will come to a required roof space of 6.4 square metres to be eligible.
To install a normal 4kW-sized system, approximately 26 square metres of clean roof space would be required. It should be noted that the most common panel setup through Solar Together is 12 panels.
Any elements of your roof that may cause obstacles or interfere with the configuration of your solar panels should be kept in mind during the design process.
This includes features like skylights, turrets, and roof vents, among others. Fortunately, Solar Together vetted installers will be able to work around these limitations in most instances.
Why is roof size important?
If you want to maximise your efficiency, become grid-independent, and match your self-consumption rates, it will be important to know how many panels and how much roof space you will need.
Even if you cannot reach the designated amount, you will still be able to make savings, year on year, turning a profit.
Factor 7: Roof availability in conservation areas
Solar photovoltaic (PV) panels are often referred to as "permitted development." As a result, planning permission is not required for most domestic properties.
However, planning permission may be required if you live in a listed building, a conservation area, or if your home has a flat roof.
If you believe you require planning permission, please plan with your local authority as soon as possible, as it may take several weeks for the approval to be granted and implemented. Please see this link for additional information about obtaining planning permission.
How can you find out if your roof is suitable for installing solar panels?
Have you registered for the Solar Together group-buying scheme?
Through the Solar Together registration process, you will be asked different questions about your roof, and there will be notified if your roof is unsuitable for solar panels.
You will be able to acquire a complete solar PV system through Solar Together, with packages ranging from 4 solar panels to 50 solar panels.
The following items are included in the standard package:
Solar PV system
Installation
Scaffolding up to two stories in height
Everything from cabling to mounting materials
Inverter
In-home monitoring
Guarantees and warranties
Roof survey
You will be informed of any unique circumstances that may need the payment of additional fees based on your personal recommendation.
After the roof survey is completed, the installer will confirm the precise amount of additional expenses.
Although there is no commitment to accept this recommendation, you will be supplied with additional information to schedule your roof survey.
Read more about a solar PV installation.